Cloud-based access with Virtual Desktop Infrastructure (VDI).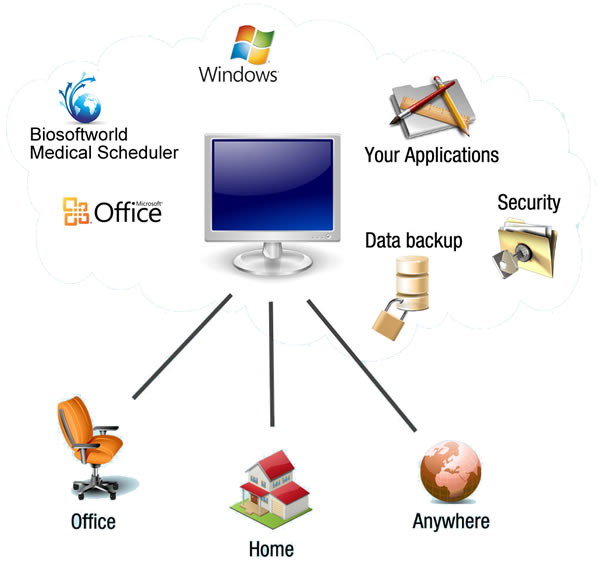 Biosoftworld Medical Scheduler can run from cloud using a virtual desktop. You can perform all of your tasks from any computer with internet connection.
A Virtual Desktop (Hosted VDI) represents a merging of the traditional functions of a desktop computer with the benefits of the cloud. Using a web browser you can run the same software that you would run on a traditional desktop computer, such as Microsoft Office or any other application. If you can run the application on your traditional desktop computer, it will run inside your Virtual Desktop, identical in function to before.
You can found many IT companies offering virtual desktop infrastructure with affordable pricing plans. We always offer additional free licenses for VDI along with standard desktop license.
Select a VDI plan of your choice, install and test our software and you are ready for business.
Cloud offers several different virtual desktop setups, so you are sure to find one that fits your needs. Whether you are a small medical office or larger medical practice, Cloud can support your needs for a reliable, scalable and affordable hosted virtual desktop infrastructure.
Biosoftworld Medical Scheduler Features