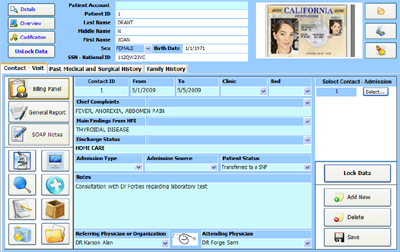 Seven is a feature-rich application for medical office - practice administration featuring full integration with Microsoft Office. Terminology and reports text are fully customizable, using user-friendly data entry forms and multiple functionalities!
Designed for small-sized medical practices (2-10 users), "Seven" is fast and easy-to-use, it allows real-time customization and excellent reporting features. With this solution you can be up and running in one hour! which means that it is not necessary for your practice to spend lot of money to purchase, configure, update and maintain an SQL Server like solution to run your application. Medical Database Seven, includes without any additional costs, points of integration with popular packages including: Microsoft Word, Excel & Outlook.
Important Notice:
Medical Database Seven is replaced from our flagship product Biosoftworld Medical Scheduler which means customers will no longer be able to buy this product and upport are no longer available! Current customers can migrate to Biosoftworld Medical Scheduler without any cost. Please contact us for details. Full document and image management capabilities! Store patient photos, medical images, insurance cards, sounds and video using the scanning and attachment to patient features. Create additional databases for unlimited providers practices! Handle all from the same interface.
One of the challenges with medical office software is managing the amount of patient data and medical images without too many screens. That's where our Biosoftworld Medical Scheduler makes the difference. Our solution lets you view, scan or attach documents and images like ultrasound, ECG and PDF directly from the main screen, even. Patient data is also organized into tabs on the main screen so you can quickly find what you need without time consuming searching through the system. We also provide SOAP Note, a powerful chart generator and a report designer.
Download Biosoftworld Medical Scheduler Free 30-day Trial!

Available Editions (ALL RETIRED!)
Medical Database Seven Professional Edition.
Medical Database Seven Professional Edition is a powerful medical office solution. Its easy-to-use graphical interface and a lot of features will make your work as easy as it can be! This edition require activation and will only operate for a finite trial period of time prior to Software activation by you. During activation, you will provide your unique Serial key accompanying the Software purchase receipt. If you do not complete the activation within the finite period of time, the application will cease to function as professional edition until activation is complete, which will restore professional edition functionality. However if you don't activate the software you can always use the Freeware Lite edition functionality.
Medical Database Seven Lite Edition Freeware!
Medical Database Seven Lite Edition is a light and easy-to-use freeware medical office solution. Freeware version of Seven contains small subset of the features found in the Pro version. However, if all you want is a basic electronic medical record solution, Seven Lite will serve you very well.This edition does not require activation.
---
Main Feature List
---
Create additional databases! for different practices or disease groups or research projects.
Scanning feature compatible with TWAIN compliant scanners. The scanned medical images can be saved as BMP. Features include auto-incrementing file naming.
No additional Software needed!
SOAP Notes Creator.
Statistic Chart Generator.
Very easy network setup for 2-8 users.
Importer for Patient Data and ZIP Codes.
User - level security model.
Audit Trails - Automatic Log-off.
Translation utility for reports!
File attachments to patients!
Prescription Writer
Customizable templates for reports.
Convert Reports to PDF
Attach PDF to Patient
Photo and Medical Image management
Analyzing or publishing reports with Microsoft Excel or Microsoft Word.
Export appointments to Microsoft Outlook.
Data retrieval by numerous search criteria !!
Full customizable terms and values in list boxes.
Maintenance screen.
Automated updates.
Windows 8 ready!
Screenshots..
---
Detailed Feature & Function List
---
Patient Demographic Data

Patient demographics information.
Full Details.
Integration with Microsoft Outlook.
Patient record retrieval by search criteria .

Appointment Scheduling

Appointment scheduling.
Daily Scheduler.
Search forms.
Daily Reports.
Schedule printouts by provider/room

Billing - Invoices

This section performs billing operations.

Update charges and prepare claims via user-friendly forms.
Automated Calculations.
Charge with ICD-9-CM Code mapping.
Comprehensive reporting capability.

File attachments

Attach documents of different types (i.e.: PDF, Word, Excel, Images, etc.) to patients
View and run per patient.
Scan and attach Documents

Charting

The Charting capability is feature rich and provides the following:

Creating new charts on the fly using various entry forms.
Creating new charts on the fly using many different values.
Customize output to Microsoft Excel !!

Patient Messaging

Direct email services to patient.
Add to Outlook Contacts.

Prescription Writer - Drug Database

The software is accompanied with FDA drug database.
It has it's own database.
Finally it is easy to populate a personal drug database for daily prescriptions.
Automatic calculation during prescription of dose.
Warning flags if medication dose is above accepted limit.

Reports

Detailed Reports concerning billing, history of present illness, visits and other.
Full Report providing immediately a hard copy of all patient details.
The Translate Reports Form enables you to translate in your native language any text field description for reports like Prescriptions and Invoice for example
Convert reports to PDF
On-Screen Print Previews
Report header fully customizable

Statistics

Ready forms for queries.
Multiple combinations
Multiple Reports
..and always Microsoft Access queries

Customizable terms

Customizable medical terms and values in list boxes.
Customizable general terms and values in list boxes.

Network capability

Multi-user capability 2-8 stations

Friendly Maintenance

Control Panel with many maintenance
and security procedures.
Special Links and Organizations