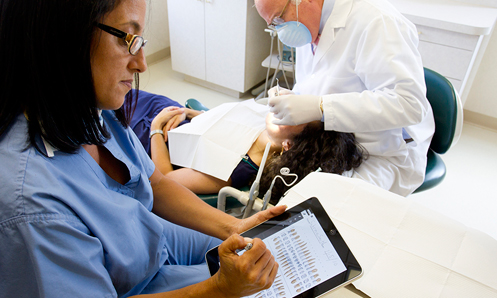 The Electronic Medical Records (EMR) software (also referred to as Electronic Health Records) and medical billing software is generally accepted as the key to a substantial improvement in productivity, quality of health-care and medical research development. Furthermore, efficient appointment scheduling and prescription writing are also essential for time saving in a busy medical office or clinic. All products can be used only with the basic configuration of a 32 or 64 bit Windows PC.
Electronic medical records software ensure that all well-known disadvantages of paper-based records will no longer be an issue. Using an EMR - Medical Scheduling Software System by Biosoftworld you can save money and time. No special or expensive hardware is required, as our main EMR System runs on typical PCs, with Windows operating systems. Biosoftworld is also interested in medical research and artificial intelligence, exploring the development of decision support tools as well as artificial neural network tools.
Our electronic medical records software has been shortlisted by Medicalbillersandcoders.com as one of the 50 best suited EMR for clinicians, the short listing has been done by suggestions of Billers and their Physicians.
EMR - Medical Appointment Scheduling - Billing Software - CMS 1500

Medical software is undergoing dramatic change in the era of Information Superhighway. Information technology is becoming central to health-care delivery organization and financing via local and wide-area networks. With the assistance of various operating systems, programming languages (C#) and databases (Microsoft Access and SQL Server 2005-2008), we develop applications world-wide for healthcare research, decision support, electronic health record systems and other areas.
Our EMR Software System provides a summary report of your patients HPI (History of Present Illness) for instant viewing or printing. The report includes all relevant diagnostics, medication, possible allergies and reactions, vital signs and interventions. In contrast with many EMR software that require diagnostic codification only in specific ICD-9 format in order to qualify for insurance payments, our EMR Software System, in addition to ICD format, allows you to specify a customizable set of diagnostic codes, which can be very useful on certain occasions (e.g. medical research).
Medical Billing Software is vital to a successful practice. Our solutions are ideal for all health-care givers who bill insurance on the CMS 1500 Form. Are also ideal for international health-care markets with more generalised rules. Our Billing solutions are integrated with our EMR systems and Appointment modules.We also offer Medical Appointment Scheduling software with billing and EMR features.